Vermont Car Donations
Donate Your Vehicle and Save Lives!
Donate Your Car to Fight Breast Cancer in Vermont
Breast cancer is the most commonly diagnosed cancer among women in the United States. In fact, one in eight women in the country is expected to be diagnosed with breast cancer during her lifetime, according to a breastcancer.org report.
Do you have a car or any other vehicle that is of no use to you anymore? Are you thinking about donating it? If you are, consider donating it to Breast Cancer Car Donations.
Your donation will impact greatly on the lives of many breast cancer patients and their families. Wouldn't you want to feel good in knowing that you did something good?
If you're now thinking of participating in Vermont car donations, then here's what you need to know.
All About the Green Mountain State
Vermont is widely known as the Green Mountain State. This nickname is a reference to the English name given by a French explorer, Samuel de Champlain in 1647 to the green mountains in his map. The name of the state came from a French phrase "vert mont" which means "Green Mountain."
Did you know that the biggest producer of maple syrup in the entire United States is Vermont? The state produces over 500,000 gallons in a year! As a matter of fact, it takes 40 years for a sugar maple to grow big enough to tap. The tree is supposed to be at least 10 inches in diameter to be able to tap it. Finally, it takes about 40 gallons of sap to produce a single gallon of syrup. This definitely makes you think twice before eating those pancakes!
Other than the maple syrup, Vermont also leads the country as the top producer of marble and top two producers of talc. These are the state's official rock and mineral.
Vermont is considered as one of the most progressive states in the country. The state was the first to grant women partial voting rights way back 1880's. It has also legislated same-sex marriage and abolished slavery. In line with this, Vermont and its people have been described as "independent." As you marvel at Vermont's picturesque valleys and hills, you will feel the strong sense of independence and individualism in the state.
How Does Your Vermont Car Donations Make a Difference
Since the start of 2017, more than 255,000 women have already been diagnosed with breast cancer in the United States, with over 41,000 deaths recorded, according to the American Cancer Society, Inc.
When you donate your car to Vermont car donations, you will be helping organizations raise funds for their ongoing cancer research work. This will aid them in pursuing new and more effective ways to detect cancer at an earlier stage as well as better techniques in treatment, prevention, and enhancing the survival of breast cancer patients regardless of their age.
Let us continue our efforts by giving support to these organizations. Give the many fighters of breast cancer and families hope.
What Are the Benefits of Vermont Car Donations
Donating a car does not only benefit the many people that are fighting against breast cancer. You too can get in with some benefits.
Here are some benefits if you donate to us:
You can now get rid of your unwanted vehicle
You are now free from having to store, pay insurance, or maintain your vehicle
You no longer have to deal with the hassle of trying to list or sell your vehicle
Quick and easy process of donating a vehicle
Free pickup and towing of your donated vehicle
Qualify for a potentially huge tax deduction
The feeling of satisfaction in knowing you did something good to your fellowmen
Quick and Easy Donation Process
We provide the most convenient Vermont car donations process for you. It's super easy and quick.
Just fill out our online donation form or call us at 866-540-5069. Tell us a little about yourself and your vehicle.
Once we receive your request, we'll arrange a convenient time and place for a local towing company to go to your location for the pickup. You don't even have to be present at the pickup!
Once the vehicle is sold at an auction, we will send your tax receipt by mail after a few days. You can use this to claim your top tax deduction. Also, you are now free to cancel your insurance and registration.
If you have other questions, visit our Frequently Asked Questions Page or simply give us a call.
Vehicles Accepted for Donation
We don't usually turn down a donation. We accept most vehicles that anyone tries to donate. Regardless of whether it's in good condition or not, we are happy to accept them in our Vermont car donations program.
Here is a list of some of the vehicles we accept:
Cars
SUVs
Trucks
Vans
RVs
Campers
Motorcycles
Boat
Jet Skis
ATV
Riding Lawn Mowers
Participate and help extend the lives of many cancer sufferers by donating your vehicle. Donate now and give us a call at 866-540-5069.
or Call Us Now at 866-540-5069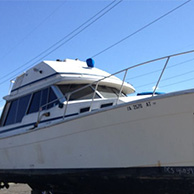 Excellent customer service!