https://www.cardonations4cancer.org/wp-content/themes/naked/img/banner-faq-01.jpg
Utah Car Donations
Donate Your Vehicle and Save Lives!
Utah Car Donations: Join the Fight Against Cancer and Become a Hero
Utah car donations allow you to be in solidarity with breast cancer patients in your community. Much work is needed to fight this devastating disease. We urge modern-day heroes to call us and make a donation!

Breast Cancer Car Donations connects donors to the breast cancer patients in their community in cooperation with other reputed nonprofit organizations that are also in the thick of the fight against cancer. This allows the community to unite in fighting breast cancer. Through our Utah car donations program, we help fight breast cancer one car at a time.
We are committed to putting breast cancer patients in our heart while keeping the convenience of our donors in our mind. We ensure the best interest of both donors and beneficiaries through our Utah car donations program. This allows both parties to reap benefits from our service.
We Are an Enabler of Charity
We send the proceeds from the sale of donated cars to cancer patients and their families in Utah. We deliver this through the nonprofits that have specific life-saving missions, including public awareness campaigns to prevent cancer, assistance in cancer screening and diagnosis, and treatment of breast cancer.
Breast Cancer Car Donations is an enabler of charity. With our Utah car donations, we allow donors to donate at their convenience and to their own community. Our easy donation process removes any form of hassle from the donor's side.
Your Car Can Make a Difference in the Lives of Many
Breast cancer puts families on an emotional roller coaster. Many of the patients and their families are in need of substantial financial and emotional support. A loving environment is also needed for them to overcome the challenge.
Breast cancer is one of the leading causes of death in America. Breast cancer communities in Utah need all the help they can get. Your car can make a difference in the lives of many.
If your vehicle has taken you to many places, you may want to take it on a different journey. Let your vehicle go the extra special mile by donating it to help breast cancer patients.
What Can You Get From Donating a Vehicle to Breast Cancer Patients in Utah
Yes, you may get some money from selling your car. However, being a modern-day hero for breast cancer patients is much more fulfilling. Aside from this, you don't really come home with an empty pocket by taking part in Utah car donations.
Your donation is free of any charge. You also enjoy free pick up and towing.
Apart from this, you also save yourself a lot of time, effort, and money that you would have to spend in advertising the sale of your car and in paying for its maintenance, repairs, and insurance. After we pick up your car, you will no longer have to burden yourself with thinking about those things since your car will be out of your possession.
Be a Modern-Day Hero!
Donating a car for breast cancer patients gives you the satisfaction of helping people truly and desperately in need. You are giving yourself the chance to save people's lives! That will certainly be a hallmark of your life!
The easy and convenient Utah car donations process will also benefit you. Donating to breast cancer patients is as simple as 1, 2, 3. All you have to do is call, and we'll do the rest for you.
The best material benefit you will derive from your car donation is enjoying substantial tax deductions. You can enjoy up to $500 worth of tax deduction in your vehicle.
Kinds of Vehicle Donations for Breast Cancer Patients in Utah
Utah car donations accept various types of vehicles for breast cancer patients. We take cars, trucks, vans, motorcycles, and SUVs. We also accept boats, non-commercial planes, jet skis, snowmobiles, RVs, campers, lawnmowers, trailers, golf carts, fleet vehicles, and even farm equipment.
For inquiries about this and other points feel free to contact us at 866-540-5069.
How to Donate Cars for Breast Cancer Patients in Utah
Donating a vehicle to Utah breast cancer patients is easy as can be. We have made sure that our process is convenient for both donors and beneficiaries. We have integrated a three-step process for your convenience.

Once you're ready to make a donation, just fill out the donation form below to begin the process. Another option is for you to give us a call at 866-540-5069. We assure you of our prompt reply in either of those two options.
The Utah car donations process may require just a little paperwork. We may ask donors to present us the registration of the vehicles they intend to donate. Feel free to call us for further questions on this matter.
Schedule the Pick-Up and Receive Top Tax Deductions
After you call us or fill out the donation form, we will call you back after we process the information you shared with us. We will then ask you to pick the most convenient date and time for the vehicle pick-up. Please note that this is absolutely free of charge.
We will issue a tow receipt for the pick-up. This will relieve you from any liabilities of owning the vehicle. You will also need the receipt for the processing of your top tax deductions.
Participating in Utah car donations has its perks. We will mail you the necessary documents for you to file your tax deduction, which can amount to $500 or even more depending on your car's market value. We will send you these documents a couple of weeks after the sale of your vehicle through auction.
Donate your vehicle to Utah breast cancer patients now! Call us at 866-540-5069 today!
or Call Us Now at 866-540-5069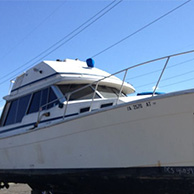 Excellent customer service!