South Dakota Car Donations
Donate Your Vehicle and Save Lives!
South Dakota Car Donations are Expressions of Kindness
If you own a car that is no longer being driven and it's costing you more in repairs than what it's worth, then it's time to make a South Dakota car donations! When you decide to donate your car, you do yourself AND the state of South Dakota a huge favor. While you get an unwanted vehicle off your property, you support the fight against breast cancer in your state.
Breast Cancer Car Donations operates a vehicle donation program on behalf of the nonprofit organizations that it partners with so that these nonprofits could maximize their efforts in raising funds for groundbreaking research on breast cancer prevention, screening and diagnosis as well as treatment and/or cure. These nonprofits are the following:
American Breast Cancer Foundation (ABCF) – Its fundraising efforts are directed toward the early detection and diagnosis of the disease. Its mission is to provide financial assistance for breast cancer screenings and diagnostic tests for uninsured individuals.
Women Involved in Nurturing, Giving, Sharing, Inc. (WINGS) – It seeks to bridge the gap between diagnosis and treatment.
Your South Dakota car donations will become a powerful weapon in the war against cancer as well as a meaningful expression of kindness to the people of South Dakota who are affected by it.
Facts about the Mt. Rushmore State
South Dakota, also called "Mt. Rushmore State" or "Coyote State," is situated in the Midwestern region of the United States. It's the home of many famous people such as the 38th U.S. Vice President, Hubert Humphrey; Major League Baseball player Sparky Anderson; American football quarterback Norm Van Brocklin and television journalist Tom Brokaw. It's known for its top historical and scenic attractions like Mt. Rushmore, Black Hills Gold, Badlands National Park, Custer State Park, Jewel Cave National Monument, Crazy Horse Memorial, and a whole lot more.
Half of South Dakota's residents are females. According to US Breast Cancer Statistics, one in every eight women will most likely develop breast cancer during their lifetime. When you donate a vehicle through Breast Cancer Car Donations in South Dakota, you help bring these numbers down. 100 percent of your donation's proceeds will be used for the benefit of the state residents.
The Good Stuff: What You Get Out of Your Donation
Let's explore the top benefits of making South Dakota car donations.
The process is quick and easy!
You just need to fill out our online donation form or give us a call at 866-540-5069. We would need to have the basic information about your donated vehicle as well as the time, date and place of pick up. Representatives from a local towing company will show up on your doorstep on the arranged schedule. You're not required to be there when they haul your car away.
We'll pay for pick up and towing!
You've been itching to have your car picked up since time immemorial. But you are deterred from doing it when you start thinking about the cost of towing and the hassle involved in trying to get your car out of the driveway. Now, you can say goodbye to your worries because we provide pick up and towing services for FREE!
Receive the maximum tax deduction!
After we sell your car to auction, you will receive a 100 percent tax deductible receipt that you can write off in the next tax season. Be sure to itemize all deductions on your tax return.
You don't have to spend time and money to sell it!
The reality of trying to sell a used and unwanted car is more stressful and expensive than you might realize. Be done with advertising, negotiating and haggling!
We'll handle the paperwork!
You won't have to handle documentation from the tax-deductible receipt to the vehicle title transfer. We'll take care of everything.
Freedom from costly repairs of your unwanted vehicle!
Would you be willing to pay for the drip, drip of your old car's maintenance and repairs for the long haul? Haven't you had enough of the sting of shelling out cash when it's warranty and free maintenance periods were over? Donate your old car and get yourself a new one!
Free up space in your garage!
You know that you need to take that "free up garage space" off your pesky to-do list. When you take part in South Dakota car donations, you will get to simplify your life as you enjoy clutter-free storage and make extra room for a new and well-deserved car!
The answer is a resounding YES! We do not limit donations to cars. There's a 99.9 percent chance that we would take the vehicle that you are planning to donate.
You may want to check out the list of vehicle types that we commonly accept:
Minivans
Motorcycles
SUVs
ATVs
Buses
Motorized Wheelchairs
Riding Lawnmowers
Tractors
Jet skis
Yachts
Golf Carts
Campers
Snowmobiles
Trucks
Oh, and did we mention that we especially like multiple South Dakota car donations? The more vehicles you donate, the more lives you bless!
Make a Major Decision Today
The harsh reality is that keeping an unwanted vehicle can be much more expensive and stressful than you might realize. Don't watch that old thing wither away in your garage. Donate it to Breast Cancer Car Donations!
Call 866-540-5069 and get free towing services for South Dakota car donations!
or Call Us Now at 866-540-5069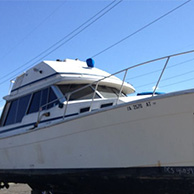 Excellent customer service!