Pueblo, Colorado Car Donations
Donate Your Vehicle and Save Lives!
Pueblo, Colorado Car Donations: Help Sustain the Fight Against Breast Cancer
We at Breast Cancer Car Donations have come up with our Pueblo, Colorado car donations program to provide life-saving assistance to needy victims of breast cancer and sustain the fight against the dreaded killer disease.
By donating your vehicles to us, we will be able to generate funds for our nonprofit organization partners so they could continue their programs that are aimed at providing medical assistance to underserved and uninsured individuals. Our two reputable nonprofit partners, American Breast Cancer Foundation (ABCF) and Women Involved in Nurturing, Giving, Sharing, Inc. (WINGS), provide these individuals with access to medical facilities so they could be properly screened and diagnosed to confirm or rule out breast cancer. They also provide assistance in the treatment of breast cancer patients.
The proceeds from our car donations program in the area also enable us to support research on finding better techniques to fight breast cancer. Your car donations will also help in sustaining our nonprofit partners' education campaign so that people may know the early symptoms of breast cancer, thus increasing their chances of surviving the disease.
Understanding Breast Cancer and Its Shocking Statistics in the U.S.
Breast cancer starts when a group of cancer cells starts to develop in the breast area. These cells grow abnormally and invade the healthy cells and tissues in the breast area. When these cancerous cells grow and multiply, they form a lump or tumor.
Breast cancer occurs when the infected cells break away from the lump or tumor and enter the blood vessels or lymph vessels. This way, the infected cells are able to travel around the body. In this process called metastasis, the infected cells damage other tissues and organs of the body
Here are a few facts about breast cancer in the United States as pointed out by the National Breast Cancer Foundation, Inc.:
One in eight women will be diagnosed with breast cancer in her lifetime.
Over 252,710 women will be diagnosed with breast cancer and more than 40,500 will die each year.
Every two minutes a woman is diagnosed with breast cancer and one woman will die of breast cancer every 13 minutes on average.
Men Can Also Be Stricken With Breast Cancer
Although breast cancer is mostly a disease among women, men can also be stricken with this illness. Men also have breast tissues where breast cancer can develop, according to the American Cancer Society.
Both men and women have lobules located in the breast area. Lobules are glands that may or may not produce milk depending on the hormones present. The ducts, on the other hand, are tube-like structures that carry the milk from the lobules to the nipples. At age nine or 10, puberty starts and small breast tissues develop among girls and boys.
Men are less likely to develop breast cancer because their ducts that are located in the areola or around the nipple are less developed than women's.
Hassle-Free Pueblo, Colorado Car Donations Process
We at Breast Cancer Car Donations have designed our Pueblo, Colorado car donations process to be fast and hassle-free for the convenience of our donors. There are only three easy steps:
Step 1: Visit our website and fill out the online vehicle donation form. You may also contact us at 866-540-5069. Our friendly donor specialists will assist you through the process. We will ask for your vehicle's information such as its make and model, your preferred time and date for the pick-up, and your vehicle's pick-up location.
Step 2:  After verifying the information you provided, we will make arrangements with a professional towing company to pick up your car. We will pay the towing fee.
Step 3: The towing company will then pick up your vehicle on the agreed date, time, and place. We will give you a donation receipt that releases you from all liability, which means you won't have to pay for your car's insurance and registration fee anymore.
We will then auction off your car. We will try to get the best price for it.  After the sale, we will send you a letter containing your donated vehicle's sales receipt or IRS form, which you will use when you file your taxes.
If your vehicle is sold for less than $500, you can claim as a tax deduction the selling price or the vehicle's fair market value up to $500, whichever is higher. You can calculate the fair market value of your car by checking the prices online for vehicles of the same make, model, year and condition as your car.
You can claim a higher tax deduction If your vehicle is sold for more than $500.
Donate your car now to our Pueblo, Colorado car donations program and help us save lives. Contact us at 866-540-5069 to donate.
or Call Us Now at 866-540-5069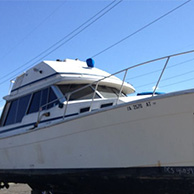 Excellent customer service!