Pensacola, Florida Car Donations
Donate Your Vehicle and Save Lives!
Make Car Donations in Pensacola and Be a Lifesaver!
If you agree that breast cancer is an enemy that we could defeat, then join our Pensacola, Florida car donations program and fight for the lives of those who are affected by this disease. We at Breast Cancer Car Donations are committed to supporting certified 501(c)(3) nonprofit organizations battling against breast cancer by managing auto donation programs on their behalf. That way, they could devote more of their time and effort at providing accessible and comprehensive breast health services in your community.
According to the American Cancer Society, breast cancer is the most common cancer among American women next to skin cancers. U.S. Breast Cancer Statistics confirmed that one out of eight women will develop invasive breast cancer at some point in her life. It is the second leading cause of death in women, with the chance of a woman dying from the disease at about 2.37 percent.
When you donate a car for charity, we take it to the best auction houses within our network to be sold. Proceeds from the sale will be used to generate funding for critical, groundbreaking research on breast cancer prevention, screening, diagnosis, treatment and/or cure. Financial assistance for breast cancer screenings and diagnostic tests will also be provided for uninsured and underserved individuals in Pensacola – regardless of gender or age.
Donating your car to this noble cause would make you a champion of your community. We make sure that breast cancer patients in Pensacola will be connected with local facilities so that they can easily access the services and resources that they so desperately need.
The City of Many Nicknames
While most of the cities in America have at least one nickname, Pensacola has five! First, it's known to be "America's First European Settlement" because the 16th-century Spanish explorer, Tristán de Luna y Arellano, first set foot on Pensacola soil in 1559.
Second, it's "City of Five Flags" nickname was coined because of the five governments that ruled over it: Spain, France, Britain, the Confederacy, and the U.S. Third, it's also called, "World's Whitest Beaches" for reasons that are too obvious to explain. Fourth, it was called "Cradle of Naval Aviation" because it was chosen as a site for the nation's first naval air station.
Lastly, Pensacola's longest-serving mayor, Emeritus Vince Whibbs, Sr. called it the "Western Gate to the Sunshine State" in his famous official greeting, inscribed with his life-size statue.
Learn More About Pensacola
Pensacola is located in Florida's panhandle, surrounded by miles of coastline. It boasts a temperate climate, friendly community and a proud military heritage. Aside from its beautiful beaches, historic neighborhoods, museums and bustling downtown, it also has several local cancer treatment centers. These include the Outpatient Infusion Center at Baptist Hospital on N E St. and the Ascension Sacred Heart Cancer Center on Airport Blvd. O.
Generally, males are more likely to die from cancer than females. In 2018 in Escambia County, about 220 men per 100,000 died of the illness compared to about 130 women per 100,000.
'I Want to Donate My Car in Pensacola. How Do I Get Started?'
We want you to have the most pleasant car donation experience in Pensacola. We'll handle everything else, from picking up your car to mailing you your tax receipt. Here's how our Pensacola, Florida car donations process works:
Fill out our online donation form or call 866-540-5069. We'd gather a few basic details like your contact information, your vehicle's make, model and year, mileage and its working condition.  We'll set up a time at your convenience to haul your vehicle away.
Step 2. We pick up your vehicle for FREE.
We will coordinate with an affiliate towing company in your area for the pickup. At your preferred time, date and place, they will promptly show up and get your unwanted car in a flash. No need to pay for anything and no need to be there when we haul your car away.
Within days after your vehicle gets sold at auction, you will receive a tax-deductible receipt by mail bearing the actual sale price of your vehicle. To claim this benefit, you need to itemize your deductions on your federal tax return.
Other Vehicles That We'd Gladly Accept
If there are two things you need to know about Breast Cancer Car Donations, it's that we're not picky and we love multiple Pensacola, Florida car donations. Every type of vehicle on the face of the earth is a welcome donation and we won't limit you to donate just one. If you own a business that wants to get rid of fleet vehicles, we'd gladly take them all!
Check if the vehicle that you have in mind to donate is listed below:
Cars:

 sedans, vans, SUVs, trucks, motorcycles

Boats:

 sailboats, motorboats, fishing boats, yachts, pontoon boats, houseboats, personal watercraft (like jet skis)

RVs:

 recreational vehicles, motorhomes, campers, travel trailers, pop-up trailers, 5-wheelers

Specialty vehicles:

 ATVs, snowmobiles, motorized wheelchairs, riding lawn mowers, tractors, farm equipment

Fleet vehicles:

 cars, passenger vans, cargo vans, SUVs, pickups, trucks, buses
The only vehicle donations that we say "no" to are abandoned ones. Giving away a vehicle to charity without showing a proof of ownership doesn't make any sense, right?
If you're still not sure, talk to us! We'd love to hear you out and address your concerns.
Let's Talk About Your Benefits
You heard us right. You will benefit from your Pensacola, Florida car donations as much as the breast cancer patients will. When you hand over your clapped-out vehicle to us, you'd get to enjoy these:
Fast pickup and towing for FREE!
We said this once, we'll say this again: With Breast Cancer Car Donations, your vehicle will be picked up at no cost to you. Towing's on us!
You can be sure that we would exert our best efforts to help you maximize your tax deductions. We do this by ensuring that you would get top value for your donation when we have it sold at auction. You can then use the receipt that we would send you by mail to reduce your taxable income once you itemize your taxes.
We're all about pleasant vehicle donation experiences so we got the paperwork covered. We'll handle everything from title transfer to sending you your tax-deductible receipt! Just sit back, relax and allow us to spoil you!
Something You Would Feel Great About Doing
The people of Pensacola don't have to look far for someone who has the heart to help them fight against breast cancer. We promise you that donating your car to us is something you will feel great about doing. Who would've thought that getting an old and unwanted clunker out of your backyard could instantly turn you into a hero?
Call us at 866-540-5069 and get free towing services for your Pensacola, Florida car donations! We serve the entire state of Florida, including nearby communities such as Bonair, Canterbury Woods, Heron Bayou, Las Brisas, Ortega, River Gardens, Somerset, Valley Ridge and Zachary Estates.
or Call Us Now at 866-540-5069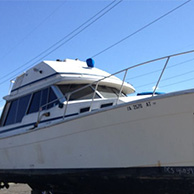 Excellent customer service!