New Haven, Connecticut Car Donations
Donate Your Vehicle and Save Lives!
New Haven, CT Car Donations: Use Your Unwanted Clunker to Help Save Lives
Hundreds of thousands of our fellow Americans, mostly women, are currently fighting for their lives against breast cancer. While some of them are fortunate enough to have the financial capacity to seek treatment, giving them a good chance of surviving the disease, many others are not as lucky and are in desperate need of help. This is where Breast Cancer Car Donations comes to the picture.
If you happen to reside in Connecticut, consider donating a vehicle you no longer need to our New Haven, CT car donations program. Such a simple humanitarian deed can make a huge difference in saving the lives of breast cancer patients in your area. By teaming up with us, you'll play a major part in speeding up their recovery process.
We will auction off your donated vehicle and use the proceeds to help fund the programs and services of our two IRS-certified 501(c)3 nonprofit partners, the American Breast Cancer Foundation (ABCF) and Women Involved In Nurturing, Giving, Sharing, Inc. (WINGS). These two charities cater to uninsured and underserved individuals seeking breast health services. For instance, ABCF provides its beneficiaries with financial assistance for screenings and diagnostic exams. Part of the funds generated from our New Haven, CT car donations program is also used to support cancer facilities and institutions in their continuing research for a cure for breast cancer.
No Need to Experience a Stressful Donation Process
One of the many things you'll love about working with us is the fact that you won't be going through any paperwork filing anymore. The only thing you'll be doing is to inform us of your decision to contribute to our New Haven, CT car donations program. Once you do that, you can leave the rest of the work to our efficient team.
Get an overview of our fast and straightforward donation process below:
1. Reach out to us.
Give us a call at 866-540-5069 or simply fill out our online donation form. Be ready to provide us specific details about the vehicle you plan to donate, including its make, model, and mileage. We will then agree on a place and time for its pickup, which will be at your own convenience.
2. We tow away your vehicle.
We offer free towing in all 50 states, which means that you don't have to coordinate with a local towing company anymore. If you can't be around at the time of the pickup, let us know ahead of time. We'll provide you with instructions on what you'll need to leave us.
Depending on your state's policy regarding car donations, you might be required to surrender your vehicle's title, so be sure to check with your local DMV.
3. We mail you your tax-deductible receipt.
A couple of weeks after we sell your New Haven, CT car donation, we'll mail to you your 100% tax-deductible sales receipt. We give you our word that we'll do our best to sell your vehicle at its highest possible price so that you'll get the maximum tax deduction for it.
If you have questions in mind, feel free to give us a quick call at our toll-free hotline or send us a message online. You may also want to visit our FAQs page for more information.
How You Also Benefit from Your New Haven, CT Car Donation
Breast cancer patients in Connecticut won't be the only ones who will benefit from your charitable contribution. By teaming up with Breast Cancer Car Donations, you'll also have your own share of rewards waiting for you:
Get rid of a no-longer-needed vehicle at zero cost. With our free pickup service, you wouldn't find yourself spending a single dollar at all.
Avoid the hassles of reselling. Reselling an old and used vehicle can take weeks or even months, which is really exhausting for the owner. To make it even more stressful, you'll have to waste a huge sum of cash for its necessary repairs, newspaper listings, and ad placements.
Save tons of bucks. Getting rid of your car means throwing away all the financial burdens that go with it. You can now say goodbye to its maintenance, repair, and insurance costs.
Skip the headaches of paperwork. We know how tiring it is to deal with piles of documents, so we're taking all the paperwork away from you.
Enjoy a hefty tax write-off. A handsome tax deduction is perhaps the most rewarding benefit you can get from your New Haven, CT car donation.
What You Can Donate
Here at Breast Cancer Car Donations, you can donate almost all kinds and forms of vehicles. Whether it's a car that barely runs anymore or a truck with a minor dent, we're more than willing to accept it. Here's what we normally take for our New Haven, CT car donation program:
Cars: vans, sedans, trucks, SUVs, buses
Motorcycles: dirt bikes, motorbikes, scooters, sports bikes
Recreational vehicles: campers, travel trailers, 5-wheelers, pop-up trailers
Specialty vehicles: riding lawnmowers, motorized wheelchairs, farm equipment, snowmobiles, golf carts
Watercraft: yachts, catamaran boats, pontoon boats, sailboats, jet skis
Aircraft: gliders, planes, helicopters
In case you're wondering, we do accept multiple donations. If you're thinking of clearing your garage, feel free to hand over all those vehicles to us! More donations mean more tax deductions!
It's Time to Give Your Old Car a New Home
Be a source of hope for breast cancer patients in your city today. Donate an unneeded vehicle to our New Haven, Connecticut car donation program. Get in touch with us at 866-540-5069.
or Call Us Now at 866-540-5069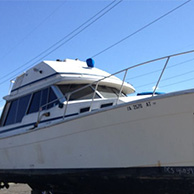 Excellent customer service!