Maine Car Donations
Donate Your Vehicle & Transform Lives!
Donate a Car in Maine and Help Transform Lives
Did you know that Maine car donations not only free you from the burden of an unwanted vehicle in your garage but also give you the opportunity to become a bringer of hope to women battling breast cancer?
Breast Cancer Car Donations has ties with several well-known nonprofit organizations that seek to find a cure for breast cancer. Some of these charities include the American Breast Cancer Foundation (ABCF) and Women Involved in Nurturing, Giving, Sharing, Inc. (WINGS). With these trustworthy nonprofits, you can sleep well with the assurance that your car donation is in good hands.
So what exactly is the role of Maine car donations in the fight against breast cancer? For one, the donations generate funds that enable cancer charities to conduct researches on early breast cancer detection, preventive measures, and of course, treatment method options. The more finances they obtain, the closer they get to find a possible cure.
With many car donation programs to choose from in Maine, you might as well pick Breast Cancer Car Donations. Not only will you go through a simple donation process, you'll also be receiving tax deductions from your car donations in the state.
Maine: The Pine Tree State
Home to more than 1,300,000 residents, the state of Maine is located in the northernmost region of the country. Its capital, Augusta, happens to be the country's most eastern capital city.
Maine prides itself on being the world's largest producer of wild blueberries, with its Cherryfield town named as the "blueberry capital of the world." The state also takes the title of being the biggest harvester of lobsters in the country, with the Lobster Festival held annually by the locals.
The Pine Tree State also boasts of beautiful tourist spots including the Acadia National Park, a playground for people who love the outdoors and hiking. For history buffs, they will certainly enjoy the Seashore Trolley Museum and the Town House School, both of which feature collections of past significant events in the area. Another must-visit place is the Boothbay Harbor, a popular summer resort that includes activities such as whale watching, river and ocean cruises, and deep-sea fishing.
Why Work with Breast Cancer Car Donations?
You're already aware that when you donate a car in Maine with us, you help in finding a cure for breast cancer. But did you know that you can also benefit from your own donation? It's not just the quick and easy process we're talking about. It's also not just for the free towing and pick-up that we provide. There are actually lots of reasons why working with us is undeniably an excellent choice.
When you make Maine car donations, expect to receive these benefits:
You get to save a whole lot of money. Why would you even bother spending for your car's insurance, upkeep, or repair fees when you don't use it anymore? You don't have to spend for advertising, either.
You don't have to suffer from a possible headache resulting from the piles of documents you have to produce when selling your car. We'll take care of anything paperwork-related.
You can give your garage or driveway a brand-new look. You can now replace your dusty van with the classic Impala you've always had your eyes on?
You have a chance to receive a huge tax deduction.
You support women who are fighting breast cancer as well as their family members.
Enjoy a Stress-free Process
One thing that sets us apart from other car donation programs in Maine is the fact that we offer a donation process that's completely free from hassle. At Breast Cancer Car Donations, we want to serve you the best way we can — starting with our donations process.
Most of us don't like the thought of doing loads of paperwork. Canvassing for cheap towing services is also time-consuming and energy-draining. When you choose to work with us, consider these nuisances as non-existent.
Once you find yourself ready to contribute to our Maine car donations, contact us right away. You may fill out our online form or give us a quick call, whichever way you prefer. We only need a few relevant details of your vehicle, nothing more.
A tow truck will come to pick up your car at a time and place of your convenience. You don't need to be present when we haul off your vehicle. You don't have to worry about expenses, either!
We will do the honor of placing your donated vehicle up for bidding. The proceeds will go to nonprofits that are undertaking serious effort to prevent and treat breast cancer. From the generated funds, you empower these organizations to discover possible ways to cure the disease.
Be sure to check your mailbox for a tax receipt from Breast Cancer Car Donations. This receipt gives you the right to revoke your car's insurance and registration details.
And that's all you need to know about Maine car donations! Pretty simple for a donation process, right?
Vehicles That Qualify for Our Maine Car Donations Program
Breast Cancer Car Donations gladly takes many types of vehicles, from cars to pontoon boats to planes. In the case of a non-working vehicle, our tow truck will take care of it. With us, there's no reason for you to worry about your car's condition and age.
To give you an idea, here is a list of various kinds of vehicles we typically accept as Maine car donations:
Motorbikes
Vans
Cargo trucks
Electric lawnmowers
Jet skis
SUVs
ATVs
Sailboats
Motorized wheelchairs
Fleet vehicles
If you have questions concerning your possible vehicle donation, just ask us. We will be glad to answer all your questions promptly.
Save Lives, Make a Vehicle Donation Now
Are you ready to participate in the fight against breast cancer and help save thousands of lives? Donate to our Maine car donations program today. Talk to us at 866-540-5069.
or Call Us Now at 866-540-5069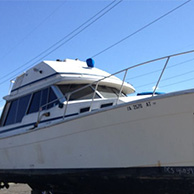 Excellent customer service!