Albany, New York Car Donations
Donate Your Vehicle and Save Lives!
Join Albany, New York Car Donations to Save Breast Cancer Patients
If your old shabby car has become more of a liability than an asset to you, then taking part in our Albany, New York car donations program is the best solution to your problem. In case you haven't heard, donating vehicles to Breast Cancer Car Donations happens to be the easiest and most practical way to le
t go of an old vehicle that frequently needs costly repairs. Your clunker need not become your money pit.
Another plus factor about donating cars to us is that the proceeds of donated vehicles go directly to our IRS-certified nonprofit partners, enabling them to continue providing help to more people across the United States who are going through their breast cancer journey.
Breast Cancer Facts
Breast cancer is a disease that happens when the cells around the breast start multiplying uncontrollably. These cells usually form a tumor that can easily be felt as a lump or seen on an x-ray. Without proper treatment, these malignant cells will spread throughout the body, thus making the disease harder and more expensive to treat.
Here are other things to know about breast cancer:
According to breastcancer.org, one in every eight women in the United States will develop invasive breast cancer within her lifetime.
It is the second most commonly diagnosed cancer and the second leading cause of death in women.
According to American Cancer Society, about 266,120 new cases of breast cancer will be diagnosed in 2018 and 40,920 women will die from it.
The Centers for Disease Control and Prevention confirms that the leading risk factor for the disease is gender. Women are more likely to develop the disease than men.
Early detections and newly developed treatment plans are the two biggest factors that contribute to the increased survival rate of women with breast cancer.
The National Breast Cancer Foundation, Inc. reports that as of today, there are about 3.3 million American breast cancer survivors who are alive today. This count includes former patients who are now cancer-free and those patients still undergoing treatment.
Breast Cancer Car Donations' Nonprofit Partners
As mentioned earlier, we at Breast Cancer Car Donations handle vehicle donations, such as our Albany, New York car donations, on behalf of our charity partners to generate funds for the delivery of their breast health services and programs to all individuals in America who need them. With the common goal of bringing down breast cancer numbers in every state, we work with the following nonprofits:
American Breast Cancer Foundation (ABCF) – ABCF is a nonprofit organization that helps uninsured and underserved individuals who show possible early signs and symptoms of the disease by providing them with financial assistance so they could undergo screening and diagnostic tests.  It also connects affected individuals to local facilities that would help them get the support, resources, and services needed for their successful treatment.
Women Involved in Nurturing, Giving, Sharing, Inc. (WINGS) – This organization helps uninsured breast cancer patients by providing them comprehensive health services.
Do you want to help thousands of people whose lives are touched by breast cancer? If you do, take part in our Albany, New York car donations program by calling us at 866-540-5069 today!
What You're Going to Get Out of Your Donation
You won't regret it if you participate in our Albany, New York car donations program because you'll enjoy big returns! Here are some of them:
Free and convenient towing services
We'll handle the paperwork
A simple and straightforward donation process
Skip the hassles associated with selling your used car
How to Join Our Car Donations Program
One of the biggest incentives in our Albany, New York car donations program is our hassle-free and quick donation process. We understand that time is precious for every person.
Here's how you can donate a car and get a tax deduction in Albany, New York's state capital:
You can start by filling out our online donation form or by calling us at 866-540-5069. This step will only take a few minutes of your time. You would need to provide your personal contact details as well as your vehicle's year, make, model, VIN, and location.
Next, we'd connect with a local towing company to haul your car away at no cost to you. You would only need to provide us with a time and date that's convenient for you and we'll be there to pick up your vehicle.
During the pick-up date, you would be handed a towing receipt that would release you from any liabilities from then on. You can also use this to cancel your vehicle's registration and insurance.
We'll send you a 100-percent tax-deductible sales receipt within 30 days after the sale of your car. The receipt shows the amount for which your car was sold at the auction. The indicated amount serves as the basis of your tax deduction claim when you file your itemized federal income tax return.
And then you're done! With just three steps, you would be able to rid yourself of a car that's just gathering dust in your garage.
Today's the Day!
Breast cancer patients need your help now more than ever. With a simple donation, you can make a big difference in the lives of women suffering from this devastating illness.
If you're ready to donate your clunker, join our Albany, New York car donations program now by contacting us at 866-540-5069 now!
or Call Us Now at 866-540-5069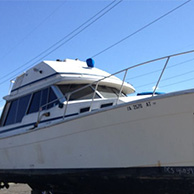 Excellent customer service!