What You Need to Know to Take a Winter Camping Trip in Your RV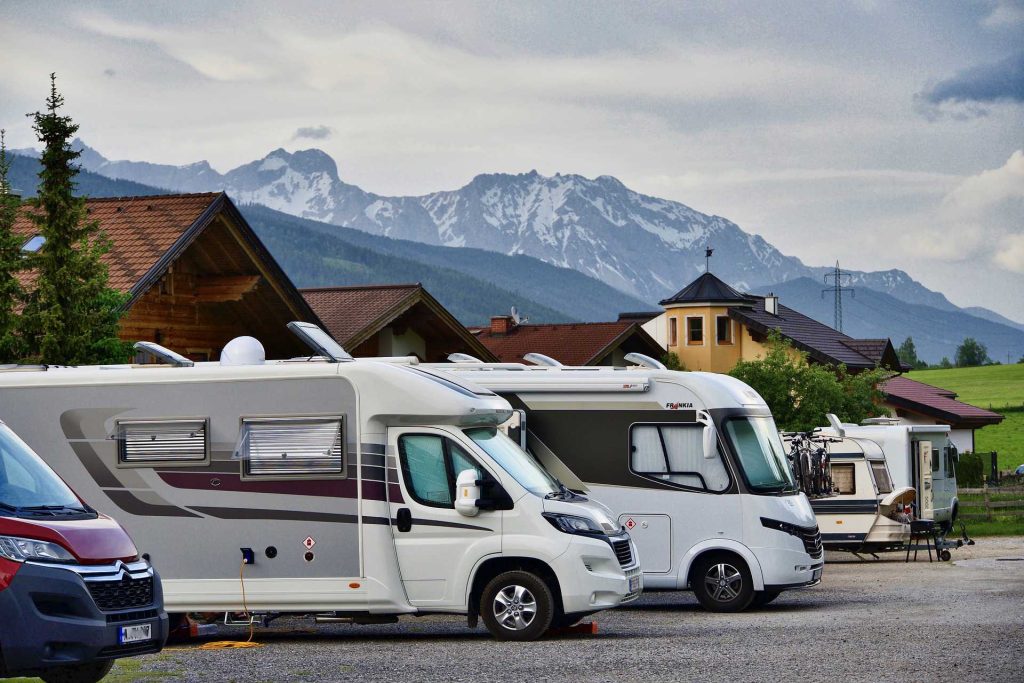 Planning to Hit the Snowy Road?
You probably know of RV owners who have decided to pack their bags and head south where the weather is warmer. Instead of joining them, you must have opted to stay so that you can try your hand at cold weather RVing while enjoying the stunning snowy outdoors.
Whether you're planning to experience the thrill of ice fishing or explore a top-rated ski resort, don't let anything stop you.
However, just like any other adventure, you need to make sure that you and your family stay safe and comfortable throughout the entire winter RV trip. Aside from knowing what to pack, you also need to get your motorhome or your trailer prepped to handle the rigors of your winter adventure before you head out.
How to Stay Safe and Warm When You're Taking Your RV Out this Winter
Just because the days are shorter and the nights are colder doesn't mean that you can't hit the snowy road and enjoy RV camping this winter. Aside from being able to enjoy the peace and quiet of the empty campgrounds, you won't have to worry about bugs during this time of year.
However, if this is the first time you'll be taking your family on an exciting off-season RV adventure, you have to know some tips to help you and your family enjoy a great winter holiday. Here are the things you need to prepare:
1. Check the exterior of your RV.
Keep in mind that your RV needs to be adequately insulated so that you and your fellow campers will be able to stay warm and toasty. Make sure that you check the seals and caulking around the windows and replace them as needed. Since you wouldn't want cold air to leak in, you also need to replace the weather stripping on all of your exterior doors if necessary.
If you need to insulate your water lines, tanks, and the floor, you may cut insulating foam boards and fit them between the ground and your RV frame. This can effectively block out the cold air and help keep your living space warm and comfortable. If you don't want to use foam board flooring, you may choose heavy carpets or rugs instead to keep the floors insulated.
2. Get yourself a heated water hose.
Does your RV come with a fresh water hook-up? Be sure to prevent bursting and freeze-ups by getting a heated water hose. You need AC power to operate this since a thermostat is used to control the water temperature. Keep in mind that you need to keep the hoses and cables out of the snow.
3. Get a small space heater.
A small space heater is a must if your water pump is in an insulated exterior storage area and you don't want your water pump to freeze.
4. Use thick and heavy drapes.
Keep the cold drafts out and keep the warm air in by using thick and heavy fabric drapes to get yourself ready for one of those chilly winter evenings. Bonus tip: If you want to heat smaller areas, you can choose to use insulated curtains to separate your living space from the cockpit.
5.Use window film and reflective foil.
You can effectively insulate your RV's windows if you decide to use foil-lined reflective insulation that you can simply cut to fit the windows. You'll be amazed at how the window film and reflective foil work to reflect heat into your RV.
6. Bring extra tanks of propane.
When the weather becomes really cold, you'll likely use up all of your propane in just a matter of days. To make sure that you have enough propane to heat your RV, it's best to secure a few extra tanks for travel. Find a propane refill station and call the campgrounds ahead to ask if they offer propane bottles for rent.
7. Test the furnace.
Before you hit the road, be sure to test the furnace. If the furnace area needs to be cleaned, you may use a soft brush or compressed air to get rid of the insects, dust, and debris. Add another heat source if all that your RV has are heat fins or a heat pump. These would hardly keep you warm when the temperature drops steeply.
8. Prevent your stabilizing jacks from freezing.
To keep your stabilizing jacks from getting stuck to the cold ground when you're parking your RV in icy conditions, try placing wooden blocks under the jacks.
Your Unwanted Vehicle Can Help Save Lives
If your life circumstances have changed and you no longer intend to keep your RV or any other type of vehicle you have, consider donating it to us at Breast Cancer Car Donations. We'll use your donation to help save the lives of struggling breast cancer patients in your area.
We'll sell your donation through an auction and use the proceeds to support the life-saving programs of our breast cancer-focused charity partners. The funding will enable them to sustain their delivery of critical breast health services in your locality to all those who need them.
Thanks to your contribution, uninsured and financially struggling breast cancer patients will be able to gain access to top medical facilities where they can get various types of treatment, including surgery, chemo, and radiation therapy. Other beneficiaries get to receive free breast cancer screening and prevention and education services.
Donating to us is quick, simple, and hassle-free. The only thing you need to do is to inform us of your decision to contribute. Our team will handle everything for you from that point onward, including all the paperwork and the free pickup and towing of your vehicle wherever you had it parked or stored anywhere in the United States.
Within days following the sale of your vehicle, we'll send you your 100% tax-deductible sales receipt by mail. With this receipt, you can claim the maximum tax deduction in the next tax-filing season.
Aside from the valuable material rewards that you'll get for your donation, you'll also be privileged to enjoy a most satisfying donating experience, knowing that your gift will help save lives.
If you have any questions or concerns about our donation program, including our donation process, feel free to contact us at 866-540-5069. You may also write to us here.
Decide to Be a Hero Today!

This winter, decide to become a hero to the helpless breast cancer patients in your community. All it takes is a simple car donation to help save their lives. Call Breast Cancer Car Donations at 866-540-5069 or fill out our online donation form now!