Top 3 Waffle Recipes You Can Make on National Waffle Day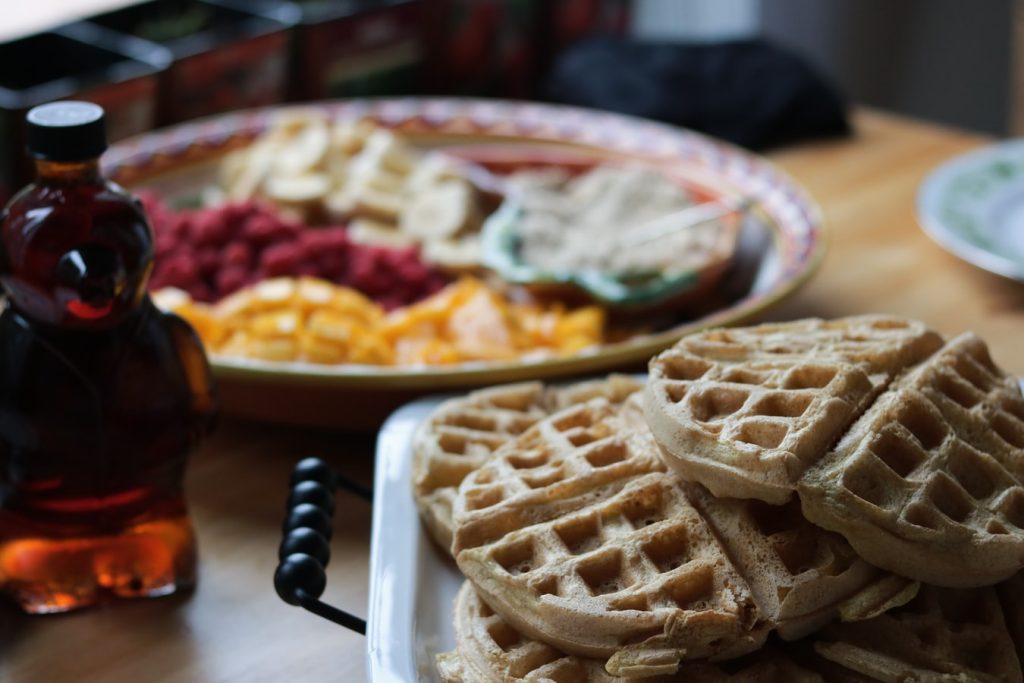 Top 3 Waffle Recipes You Can Make on National Waffle Day – Here Are Fluffy, Filling and Delicious Treats to Enjoy on August 24th
For hundreds of years, waffles have been one of America's all-time favorite snacks. They're easy to make, can easily go with any meal, and cater to almost every person's taste buds.
The first waffle irons with the honeycomb pattern, which pretty much represents modern waffles, first appeared in the 1200s. The batter was poured in, pressed together, and cooked over an open fire, which is more or less the same method being used to cook waffles today. In 16th century Europe, almost everyone in society was eating waffles, which were sold by street vendors.
Waffles are a tasty, delicate treat that can be enjoyed by anyone, no matter what age group or class they belong to. Everyone loves this dish so much that it has been given a day for celebration in the United States. National Waffle Day is celebrated on August 24th of each year. This was the date in 1869 when Cornelius Swartwout of Troy, New York, received the first U.S. patent for a waffle iron.
You have many options in preparing your waffles — the choice is ultimately yours. You can add maple syrup, butter, slices of fruit, and whipped cream. You can add a big scoop of ice cream, too!
Celebrate National Waffle Day on August 24th by helping yourself with a mouthful of waffles!
Waffle Recipes You'll Easily Fall In Love With
While the plain, buttermilk waffle is still well respected and loved by Americans, there's a boatload of recipes that you can make with waffles. They're the ultimate food canvas where you can have a variety of flavors. From apples and berries to cornbread and zucchini, take a break from ordinary waffles and try new recipes to kick things up a notch!
Here are three top recipes you can try making to celebrate National Waffle Day.
Apple, Cheddar and Prosciutto Waffles
For breakfast or brunch, this waffle made with apple, cheddar, and prosciutto is a simple but delicious recipe. Your taste buds will jump once they get a taste of this, especially when it's all drizzled over with sweet maple syrup. You don't have to stick with apples if they're not in season or if you're not a big fan of apples. You can replace them with any fresh fruit that you prefer. Just make sure that the fruit you decide to use can easily be sliced or cut so that you can eat them alongside the other ingredients.
Chocolate Caramel Liege Waffles
Chocolate Caramel Liege Waffles or Chocolate Caramel Waffles are perfect for lazy days or breakfast during special occasions. It's an indulgent treat that'll easily be a top favorite for kids. The combination of chocolate and caramel flavors will leave you wanting to make this waffle recipe for every morning after or even as an afternoon snack.
Cheddar Cornbread Waffles with Fried Egg
This is a comfort food mixed with your favorite vegetables and herbs. It's a dreamy breakfast meal  (ideal for brunch, too) that'll leave you full and wanting for more. Don't use maple syrup for this one. Instead use cheese sauce.
Do This Extraordinary Deed on National Waffle Day

On National Waffle Day, do more than just cook and enjoy waffles. Make it extra special by doing an extraordinary deed, such as extending a helping hand to individuals fighting off breast cancer.
Breast cancer treatment is not cheap. Unfortunately, not everyone can afford the high cost of a comprehensive medical treatment that's needed for a victim to beat the disease.
You can extend life-saving assistance to uninsured and indigent breast cancer patients, using just your old and unwanted car to be able to do this. All you have to do is to donate that vehicle to us at Breast Cancer Car Donations.
We'll sell your donated vehicle through an auction and use the proceeds to support the critical programs and services of our nonprofit partners. These IRS-certified 501(c)3 nonprofit organizations provide comprehensive breast health services, particularly to uninsured and underserved breast cancer patients.
These patients are given the chance to get easy access to medical facilities where they can undergo full treatment, including surgery, chemotherapy, and radiation treatment. These charities also provide breast cancer survivors with follow-up care, including laboratory work, annual mammograms, and physician visits five years after remission. Other beneficiaries get to receive free breast cancer screening and prevention and education services.
Donating to us is easy, convenient, and hassle-free. We'll do most of the work, so you won't have to break a sweat during the entire donation process. All you need to do is to get in touch with us either by phone or online.
You'll also benefit from your charitable contribution since it will entitle you to receive a maximized tax deduction in the next tax season. Moreover, we'll provide you with our free pick-up and towing services.
You can donate not just cars but nearly any other types of vehicles regardless of their condition. We can collect your donation wherever you are located in the country since our vehicle donation program covers all 50 states.
For more information, feel free to check out our FAQs page. If you have questions, call us at 866-540-5069 or leave us a message here.
Your Rusty Old Clunker Can Save Lives
Partner with us at Breast Cancer Car Donations and help save the lives of needy breast cancer patients in your community. Use your beater to bring them hope. Call us at 866-540-5069 or fill out our online donation form today!