Top 3 Unusual Christmas Eve Traditions Around the World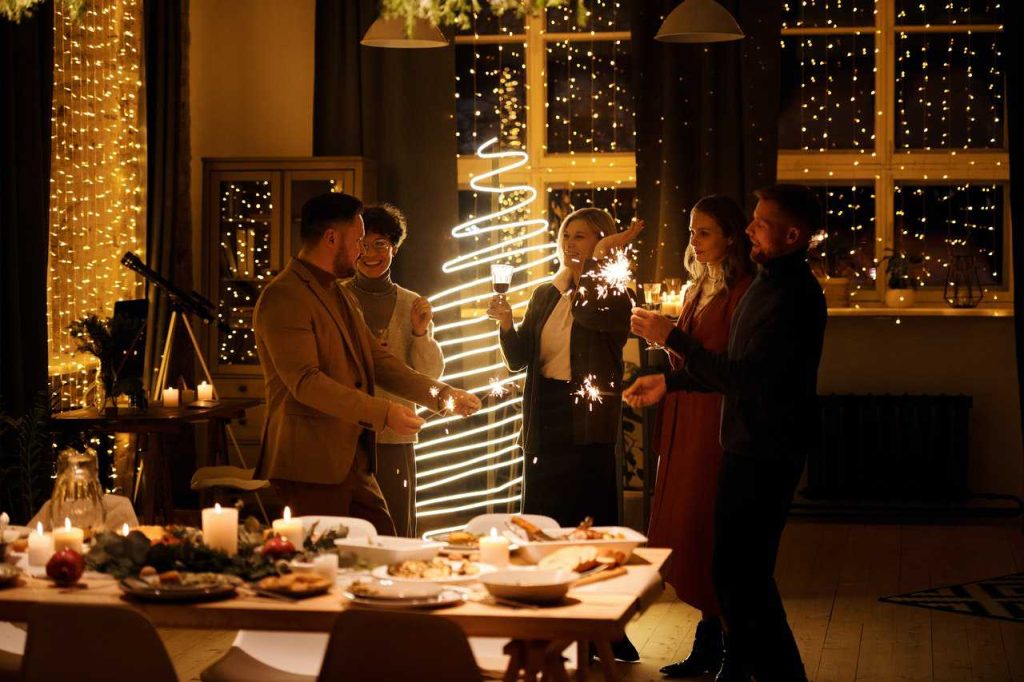 December 24th Sees These Wonderfully Weird Traditions
Different people have different ways of celebrating Christmas Eve. These traditions could be anything from setting out cookies and milk for Santa before going to bed or feasting over delicious home-cooked meals until the wee hours of Christmas morning. Whatever your Christmas traditions maybe, your holiday celebration won't be complete without them.
What Are the Most Unusual Christmas Traditions Around the World?
Did you know that in some parts of the world, Christmas Eve is celebrated in the most unusual ways? People from different countries have their own customs and rituals. To give you an idea, here are three wonderfully weird Christmas Eve celebrations overseas:
1. Lithuania: Dining with the dearly departed
Christmas Eve is a big deal among Lithuanians because it's all about fostering stronger bonds among family members. People try their best to make the journey back home in time to share the meal of Kūčios with their loved ones. Even their dearly departed are invited to return for the meal because they set a place for them with plates that have single candles lighted in the center. Each time the flame flickers, the family takes this as a sign that their loved one's spirit is there celebrating with them.
This meal consists of 12 different dishes, which are mostly vegetables, fish, and bread. They set the table by laying down a white tablecloth over a thin layer of hay so that the family members can later "draw straws" at random. They believe that the straw they end up picking will give them a sign of what their future holds. As soon as the first star appears, the meal starts, and each of them is required to forget their grievances and forgive their enemies.
2. Norway: Hiding brooms
Norwegians believe that witches and evil spirits come out during Christmas Eve to look for brooms that they can ride on. For centuries, people have been hiding their brooms in a safe place where these creatures are least likely to find and steal them.
3. Venezuela: Heading to church on roller skates
In Caracas, Venezuela, people head to church every Christmas Eve on roller skates. To ensure the safety of the city's residents, the local government closes main thoroughfares to motor vehicles until everyone has already skated back home. Moreover, their Christmas meal consists mainly of tamales, a steamed delicacy, which is a wrap made out of cornmeal dough and meat.
Make Your Own Amazing Christmas Eve Tradition This Way
You may have been amazed at how people from other countries choose to spend the night before Christmas. How about making your own amazing Christmas Eve tradition by making a charitable donation for the benefit of the less fortunate people in your community? Doing so need not cause you to spend any amount of money at all. If you have any vehicle that you no longer use and want to dispose of, that's all you need to make a charitable contribution to us at Breast Cancer Car Donations.
When you make such a donation to us, you'll be helping save the lives of needy breast cancer patients in your local area. We'll sell your donation through an auction and use the proceeds to support the life-saving programs of our breast cancer-focused charity partners. The funding will enable them to sustain their delivery of critical breast health services in your locality.
Thanks to your contribution, uninsured and financially struggling breast cancer patients will be able to gain access to top medical facilities where they can get various types of treatment, including surgery, chemo, and radiation therapy. Other beneficiaries get to receive free breast cancer screening and prevention and education services.
Donating to us is quick, simple, and hassle-free. The only thing you need to do is to inform us of your decision to donate. Our team will handle everything for you including all the paperwork and the free pickup and towing of your vehicle wherever you had it parked or stored anywhere in the United States.
Within days following the sale of your vehicle, we'll send you your 100% tax-deductible sales receipt by mail. With this receipt, you can claim a top tax deduction in the next tax-filing season.
Aside from the valuable material rewards that you'll get for your donation, you'll also be privileged to enjoy a most satisfying donating experience, knowing that your gift will help save lives.
If you have any questions or concerns about our donation program, including our donation process, feel free to contact us at 866-540-5069. You may also write to us here.
Give Hope on Christmas Eve

Celebrate Christmas Eve on December 24th by extending a helping hand to the suffering breast cancer patients in your community. All it takes is a simple car donation to give them hope of securing a new lease on life in the coming New Year. Call Breast Cancer Car Donations at 866-540-5069 or fill out our online donation form now!