National Physical Fitness and Sports Month: Top 5 Ways of Getting Fit This May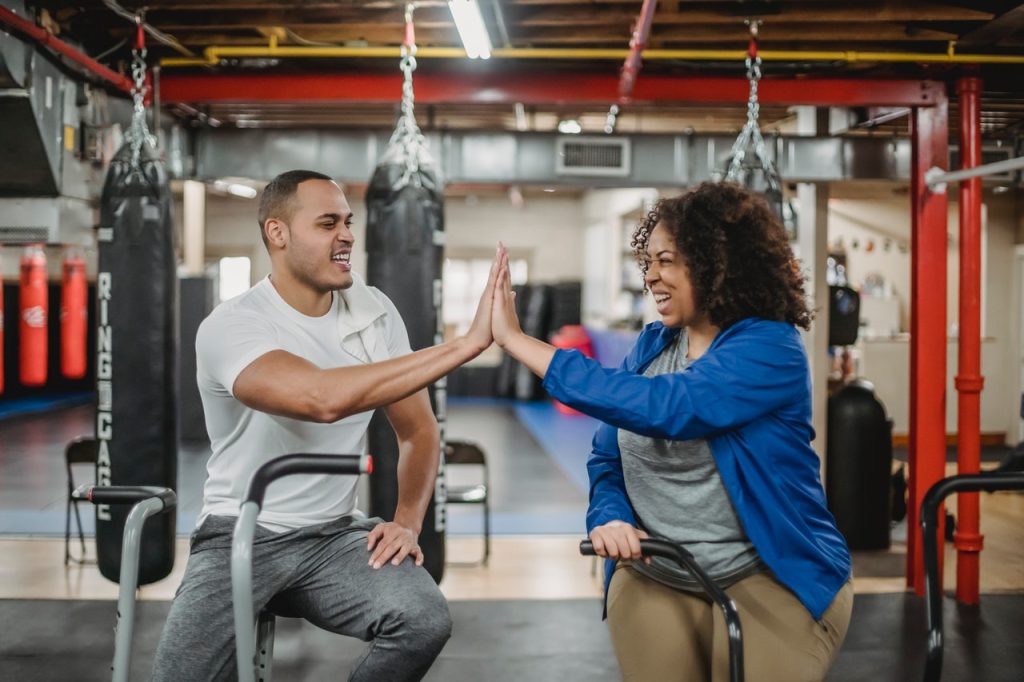 No Pain, No Gain!
National Physical Fitness and Sports Month is observed in May to promote healthy lifestyles among all Americans to improve our quality of life.
The month-long campaign began in 1983 following an endorsement by the U.S. President's Council on Fitness, noting that citizens' health and fitness were vital for our nation's strength.
The presidential panel noted that the time Americans devote to keeping their bodies fit would give them the extra energy, productivity, and good health that they'd enjoy for the rest of their lives.
Spending at least an hour doing body exercises can make a significant difference in your health. You'll be able to control your weight better, improve your fitness, lower your risks of contracting diseases, and even improve your mood. Choosing to exercise regularly is a decision you'll never regret.
You don't have to be an athlete or an exercise buff. You just have to decide to keep yourself fit through regular exercise.
In observance of National Physical Fitness and Sports Month, here are the top 5 ways of getting yourself fit.
1. Do short bursts of exercise.
Research shows that short bursts of exercise can be just as beneficial as an hour's worth of training or workout. Do some sprints or quick jump rope sessions and lessen your rest period during workouts. These activities will allow you to reap maximum health benefits.
2. Check your calorie intake.
Make sure you're not consuming more calories than you're burning. You won't get fit no matter how much you're exercising if you're eating twice more than the excess calories you're burning.
3. Make changes to your work routine.
Minor changes to how you work can bring big changes to your fitness. Do you know that standing up burns 10% more calories than sitting down? You can work or do your Zoom meetings standing up instead of sitting nice and cozy on your chair.
4. Get your pet to help you out.
For those who have dogs, spend at least 30 minutes playing with them or walking them around the block. It's a great way to get your body moving while bonding with your furry best friend. If you don't have one, you might want to check if your neighbors need a little help in walking their dogs.
5. Track your daily steps.
You can install apps on your mobile phone that can help you track how many steps you take daily. Aim for milestones to achieve such as 10,000 or 20,000 steps per day. You'll find yourself walking more and saving up some money, too.
Here's How You Can Become a Life-Saving Hero
Be glad that you're healthy and have the energy to do regular exercise. Some folks in your community aren't that lucky. They don't have the stamina to do rigorous physical exercise because they're suffering from serious ailments such as breast cancer.
If you have a soft spot for breast cancer victims, particularly those who don't have the financial capacity to pay for the high cost of their treatments, all you have to do to help them is to donate your old and unwanted car to us at Breast Cancer Car Donations.
We'll sell your vehicle at a top auction house in your area to generate funding for our nonprofit partners. These IRS-certified 501(c)(3) nonprofits are committed to improving the overall well-being of breast cancer patients, particularly those who are uninsured and lack the financial means to pay for the costs of their treatments. The proceeds from the sale of your donated vehicle will go directly to these nonprofits to support their life-saving programs.
Thanks to your donation, our charity partners will be able to serve more of their beneficiaries, providing them with easy access to medical facilities where they can undergo all types of treatment, including surgery, chemotherapy, and radiation treatment.
These nonprofits also provide breast cancer survivors with free follow-up care, including laboratory work, annual mammograms, and physician visits after remission. Other beneficiaries get to receive free breast cancer screening and prevention and education services.
You'll also reap valuable rewards, including getting entitled to receive the maximum tax deduction. Expect to receive by mail the 100% tax-deductible sales receipt of your car a few weeks after its sale. Using this receipt, you can then claim your tax write-off in the next tax season.
You also need not worry about how to dispose of your unwanted vehicle since we will provide you with our pickup and towing service wherever you're located in the country at no cost to you. We will coordinate with a professional towing company in your area to haul off your vehicle at a date, time, and place most convenient for you.
The best reward you'll get, however, is the experience of feeling the joy and satisfaction of giving away something that will help save lives.
You can donate not just a car but also almost any other type of vehicle. Regardless of your vehicle's physical state or working condition, we'll gladly take it off your hands for free.
For more information, check out our FAQs page. If you have questions or concerns, call us at 866-540-5069 or write to us here.
Let's Fight Breast Cancer This May!

Turn your unwanted car into a powerful weapon against breast cancer this May as we observe Physical Fitness and Sports Month. Hand it over to Breast Cancer Car Donations today! Call us at 866-540-5069 or fill out our online donation form now!