Get Your Health Back on Track, It's National Hot Tea Month!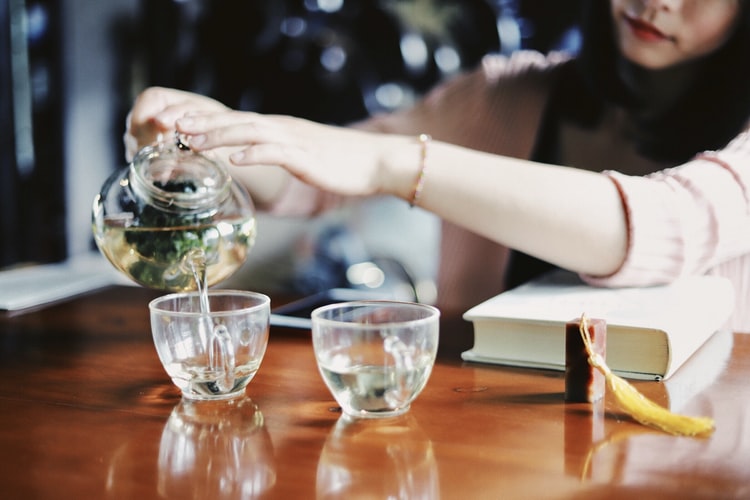 Get Your Health Back on Track – It's National Hot Tea Month!
Now that we're through with all the Christmas parties and family gatherings, our stomachs can finally rest and heave a sigh of relief. It's time to get back in shape and cleanse our bodies after stuffing them with all those holiday desserts and booze. And what better way to start the year healthy than by celebrating an entire month drinking brewed tea?
Tea is known as the most consumed beverage in the world (sorry, coffee lovers). There are so many reasons that make tea a favorite of many. It's super healthy, it helps you shed off those unwanted fats, offers thousands of different flavors, and of course, it gives you that feeling of comfort and calmness. What's more, a cup of hot tea is good at any time of the day!
6 Benefits of Drinking Hot Tea
If you've been drinking tea religiously for a couple of years now, you must already be aware of the wonderful effects it brings to your mind and body. However, in case you only take tea whenever you go out with your friends, or perhaps when a co-worker offers you one, we're here to tell you that regularly consuming a steamy cup of this drink is an excellent way to maintain a healthy overall well-being.
Whether it's green tea, mint tea, oolong, or black tea, one thing remains the same: All of them are beneficial to your health. Here are some reasons why:
1. Tea improves your digestive health.
Herbal teas are known to relieve digestion problems such as constipation, gas, ulcer, and digestion. The next time you're having an upset stomach, you might want to get yourself a brewed cup of mint, ginger, or chamomile tea.
2. Tea prevents cavities.
Because black tea is rich in enzymes, drinking one cup of it a day will protect you from getting tooth decay and gum diseases.
3. Tea reduces the risk of stroke and heart attack.
Numerous studies reveal that green tea lowers your levels of LDL cholesterol and triglycerides, thereby lowering your chances of developing cardiovascular problems like heart disease and stroke. Researchers also found out that drinking at least three cups of green or black tea a day can reduce the possibilities of such diseases by 21 percent.
4. Tea helps prevent bone loss.
Moringa tea is packed with minerals such as iron and calcium, as well as vitamins A and K. It plays a crucial part in keeping your bones strong and sturdy.
5. Tea boosts your immune system.
Practitioners of Ayurvedic medicine have been using holy basil or tulsi tea to ward off illnesses for centuries. Apparently, the tea contains plenty of anti-inflammatories, antibacterial, and anti-fungal components.
6. Tea helps you maintain your weight.
Many people who are trying to lose weight or stay fit incorporate hot tea into their diet. This is mainly because teas have catechins (compounds that boost metabolism) as well as caffeine, helping you burn more calories as you move.
Breast Cancer Victims Need Your Support!
Even as drinking tea brings you feelings of comfort and calmness, such feelings are challenged when you have a car that's bringing you nothing but trouble on the road. If you're looking for a sure-fire way to relieve yourself of such burdensome vehicle, we have just the perfect solution for you: Donate it to us at Breast Cancer Car Donations!
When you do so, you not only get rid of it conveniently, but you do it for the benefit of individuals in your area who have been diagnosed with breast cancer.
Vehicles donated to us automatically turn into fund-generating instruments for IRS-certified 501(c)3 nonprofit organizations that are working hard to support breast cancer sufferers throughout the United States. When you give us your automobile, we place it up for auction, and then we use the proceeds to finance the critical programs of our charity partners. This provides life-saving benefits to uninsured and underserved patients, enabling them to receive free access to quality health care, financial aid, emotional support services, and so many more.
As our way of expressing our gratitude to you for supporting our cause, we'll mail to you your 100-percent tax-deductible receipt after the sale of your vehicle, entitling you to claim a top tax deduction from the IRS in the next tax season. To give you even better news, we'll tow your vehicle away for free, and we're leaving you the option to pick a time, place, and date for it!
We accept donations of nearly all types of vehicles wherever you are in the United States since we have car donation programs in all 50 states.
If you're interested to learn more about car donations or tax deductions, feel free to visit our FAQs page. You may also leave us a message here or talk to one of our donation experts at 866-540-5069. We'll be happy to hear from you.

Help Save Lives Now!
Are you ready to save lives with your unneeded vehicle? Give us a call today at 866-540-5069 or simply fill out our donation form here! You'll be a local hero in an instant!