Amazing Ways to Celebrate Halloween at Home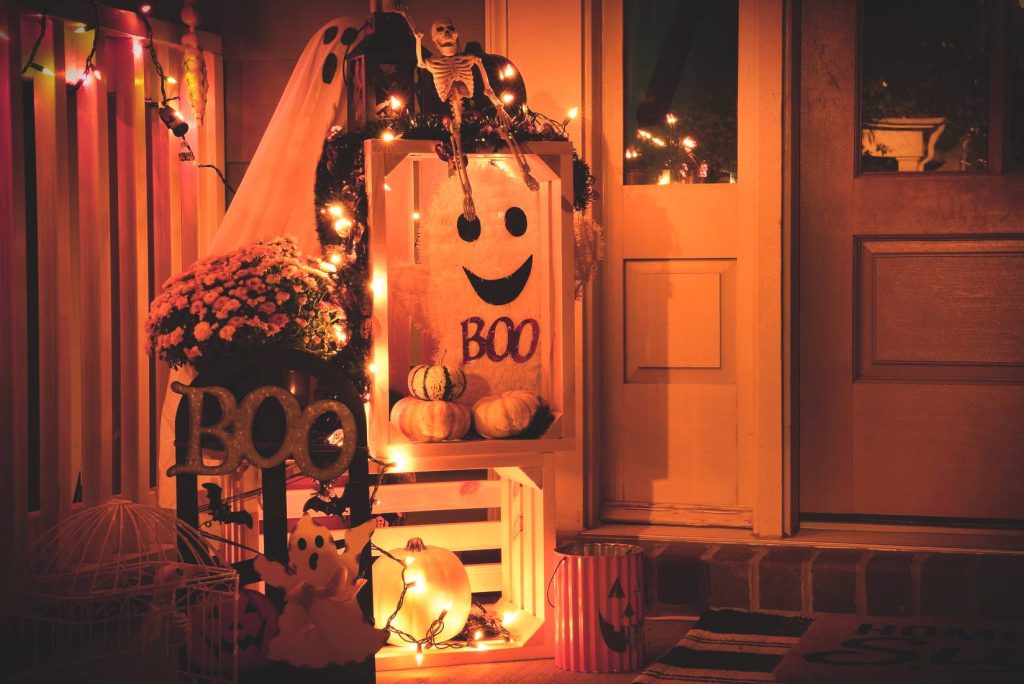 Running Out of Spooktacular Ideas? We Got Your Back!
Little trick-or-treaters strolling down the streets, folks adorning their houses with jack-o'-lanterns and cobwebs, and friends exchanging horror stories while huddling around a campfire — yep, it's Halloween once again!
If you're planning to spend it differently this year, like maybe just stay at home and bring the party to you, we can't see why not! You can still have a lot of fun without having to dress up and mingle with costume-clad adults. Who knows, it might just be your best Halloween yet!
Here are six amazing ideas that will inspire you to get into the spirit of this spooky holiday:
1. Decorate your house.
Since you'll be celebrating Halloween in your lovely abode, it makes perfect sense that you'd want to give your home a spine-chilling vibe. No need to overdo it, though — skeleton window clings, orange and purple lights, monster-carved pumpkins, spider fans, and you're good to go. Oh, and don't forget those haunting sounds to freak your guests out!
2. Host a low-key party.
Tired of loud parties and rowdy crowds? How about you switch it up with an intimate dinner this time? Invite your closest pals over for a night of delicious food, laughter, storytelling, and hair-raising games!
3. Set up an outdoor cinema.
We don't know about you, but there's just something extra about watching movies in the open air while munching on a bowl of Halloween treats. Be sure to show films that are age-appropriate for your audience, unless you don't mind giving the kids a series of sleepless nights. Here's a guide to help you create your own outdoor cinema.
4. Share scary stories.
Nothing says Halloween like spending a night of exchanging ghost stories and urban legends that can send shivers down your spine. Set a bonfire in your backyard where you and the rest of the gang can frighten each other with your creepy tales. You can even put on some sinister sound effects to make it appear as if everyone's in a horror movie.
5. Learn about the little-known facts of Halloween.
Did you know that in Europe, trick-or-treaters had to perform choreographed dances to earn their treats way back then? Or that the earliest Halloween had people wearing animal heads and skins? If this is the first you've heard of these facts, you better catch up on Halloween night reading about its history or watching a documentary or two!
6. Get creative in interacting with trick-or-treaters.
Got walkie-talkies or baby monitors at home? Using this gadget, surprise costume-wearing children by talking to them while still inside your house — just as they're about to approach your door. Hide the other gadget where your voice will be heard behind a plant or in your carved pumpkin.
Celebrate a Meaningful Halloween

Don't let the supposedly spookiest day of the year get into your way of doing good for others. Instead, use it as an opportunity to make a difference in the lives of breast cancer patients in your community. And yes, you can do it in the comfort of your own home!
If you happen to own a time-worn car that doesn't hold any significance to you anymore, you might as well hand it over to us at Breast Cancer Car Donations. We'll use it to help fund breast cancer-fighting organizations that cater to uninsured and underserved women across the country. By donating a vehicle to us, you'll be helping our nonprofit partners in providing their beneficiaries with life-saving breast health services, including access to medical facilities where they can undergo full treatment, free screening, diagnosis, and aftercare for recovering patients.
Since our partners are IRS-certified 501(c)3 nonprofits, you will be entitled to receive a top tax deduction for your donation. We'll send you your tax-deductible sales receipt within 30 days following the auction of your donated vehicle.
Also, you can count on us to tow your car away at a time and place of your preference, and you don't have to spend a single penny!
We accept almost all types of vehicles, such as compact cars, trucks, buses, motorcycles, RVs, boats, snowmobiles, and fleet vehicles. You can even give us a hardly running car that has dents or scratches. Trust us, we don't mind!
Our free pickup and towing services are available in all parts of the U.S. If you can't be present on the scheduled date, just let us know ahead so that we can provide you with additional instructions.
For more information on our car donation program, feel free to visit our FAQs page. If you have any inquiries, reach us anytime at 866-540-5069 or contact us here.
Donate Today!
Ready to surprise breast cancer-afflicted individuals with a wonderful treat this Halloween? Start the donation process now! Call 866-540-5069 or fill out this form!