6 Awesome Books to Perk Up Your Mood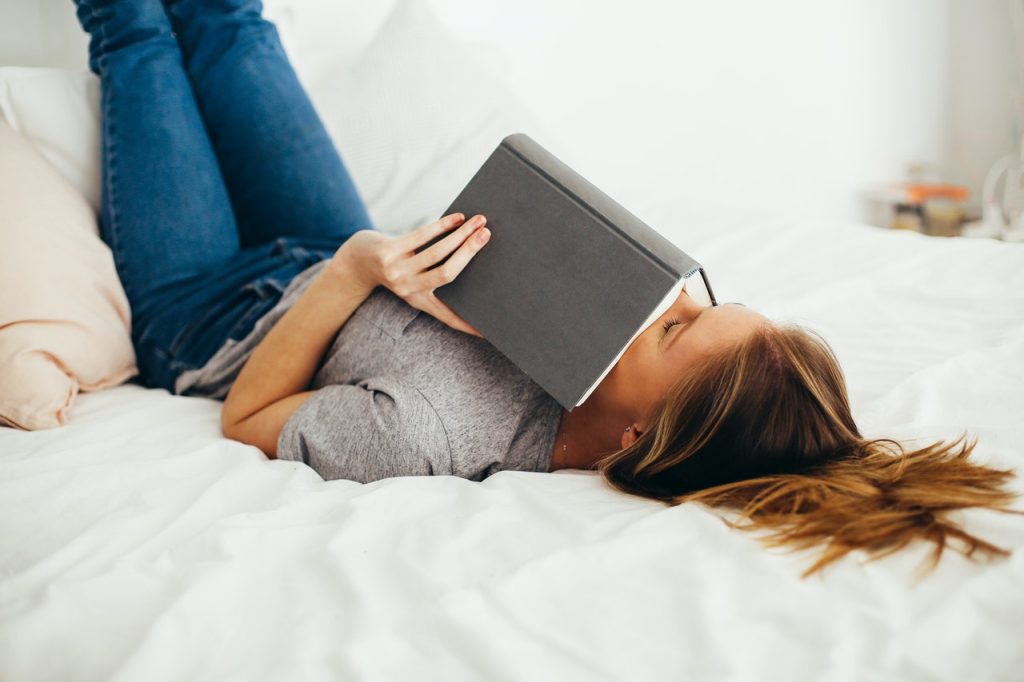 They'll Help You Cope with the Challenges of Adulthood
If you're feeling down in the dumps for one reason or another, picking up a good book can be a great way to flip your mood to a positive one.
Good books are like your good friends. They give you a welcome distraction from your day-to-day worries. They take you to unknown places or grand adventures even without leaving the comfort of your homes. They cheer you up when your mood takes a dip.
Care to test it out? Here are some great reads to lift your mood.
1. Democracy in One Book or Less: How It Works, Why It Doesn't, and Why Fixing It Is Easier Than You Think| By David Litt
The issue of politics has always been a tricky (and stressful one). Experts often discuss technicalities on television, which get to be overwhelming at times. Former President Barack Obama's speechwriter David Litt walks you through the process of what makes a democratic nation in a light and fun fashion that will make you feel hopeful about what you can do to make the country even better.
2. Is Everyone Hanging Out Without Me? (And Other Concerns) | By Mindy Kaling, Michael Schur, et al.
Actress Mindy Kaling shares her thoughts about growing up in an immigrant family and how she overcame her struggles to become one of the most well-loved artists of her generation. Her humor and candor in sharing her experiences will inspire you to take the courage to go after your dreams.
3. Would Everybody Please Stop?: Reflections on Life and Other Bad Ideas | By Jenny Allen
Author Jenny Allen tackles life's most profound questions about motherhood, healthy diets, and whatnot that readers can relate to. She shares her take on these questions in 35 short essays that are filled with humor, sarcasm, and a lot of heart. It's a quick read that easily provides the pick-me-up when you're feeling down.
4. Rich People Problems: A Novel / Book 3 of 3: Crazy Rich Asians Trilogy | By Kevin Kwan, Lydia Look, et al.
If you liked the movie Crazy Rich Asians, you're bound to love Rich People Problems, a book written by Kevin Kwan, the author who wrote the novel behind the blockbuster film. This time around, Kwan explores the drama that goes on as members of a rich family battle it out to claim a huge inheritance from the family matriarch.
5. You Don't Look Your Age…and Other Fairy Tales | By Sheila Nevins
Sheila Nevins' book is the perfect companion if you are feeling down about various issues that you face as a woman. These essays will make you feel like you have your girlfriend right beside you, cheering you on.
6. We Are Never Meeting in Real Life: Essays | By Samantha Irby
Samantha Irby knows a thing or two about adulthood and she shares her hilarious essays about navigating through problems that grown-ups face in real life. These humorous anecdotes will make you feel like you're not alone and your struggles are not your own.
Want to Lift the Spirits of Breast Cancer Patients in Your Area?
Reading inspiring books is a great way to lift your spirits. In your community, some residents may need cheering up as well. They may include uninsured and destitute breast cancer patients who are unable to afford essential medical treatment. This weighs heavily on their struggle to survive the disease.
If you have an old and unwanted car that's only taking up space in your garage, you can use it to provide essential medical assistance to those patients, saving their lives.
You can do this by donating that vehicle to us at Breast Cancer Car Donations. We'll auction it off to generate funds for our breast cancer-focused nonprofit partners. These IRS-certified 501(c)(3) nonprofit organizations use the funding that we give them to finance the comprehensive breast health services they provide to their beneficiaries. Thus, thanks to your donation, needy breast cancer patients in your local area will be able to get free and easy access to top medical facilities where they can undergo breast cancer screening, diagnosis, and full treatment.
To show you our utmost gratitude for your generosity, we'll promptly send you by mail the 100% tax-deductible sales receipt of your vehicle after it gets sold. This receipt will serve as your ticket for claiming the maximum tax deduction in the next tax season.
You will also benefit from our fast and free pickup and towing service. Just tell us where your vehicle is located and we'll assign a licensed towing company to collect it at a date and time at your convenience.
However, the best reward you'll get is the priceless feeling of contentment for touching the lives of breast cancer patients and their families.
We accept almost all types of vehicles, including those that are no longer running anymore. Find out more information about that here. You can also make your donation anywhere in the country since we have donation centers in all 50 states.
If you have any questions or concerns, feel free to call us at 866-540-5069 or leave a message here. For further details on our vehicle donation program, you may navigate your way to our FAQs page.
Give Breast Cancer Patients a Precious Gift — Your Old Car

Give struggling breast cancer-stricken women in your community a reason to feel hopeful. Give them hope. Donate your car to Breast Cancer Car Donations at 866-540-5069 or fill out our online donation form now!