5 Ways to Set Better Goals for the New Year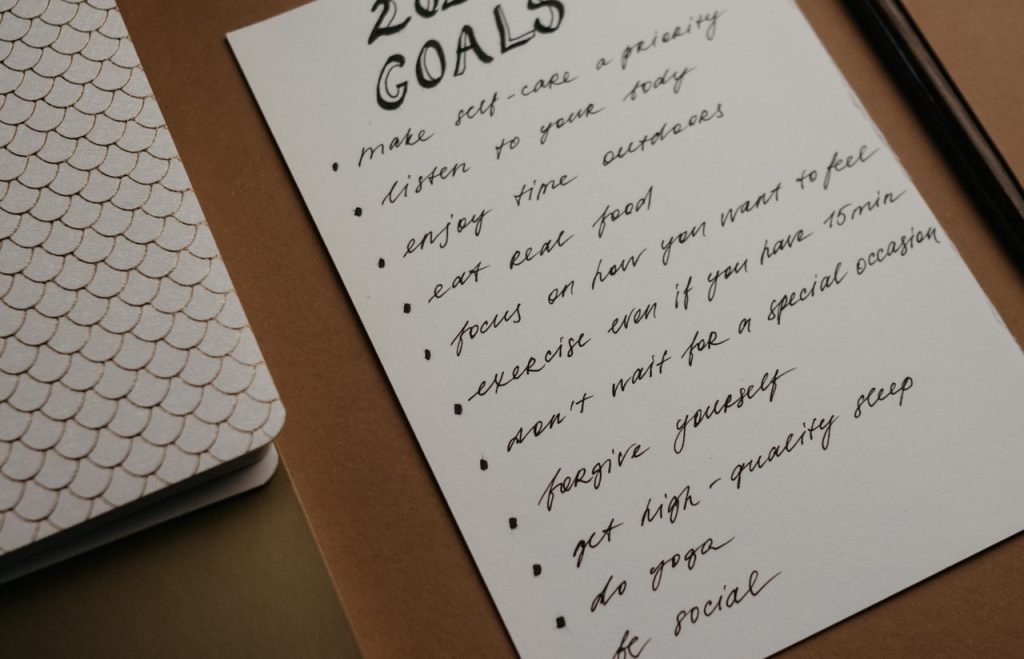 Are You Still Pursuing the Resolutions You've Made?
Weeks since you celebrated the start of 2022 by listing down your New Year's resolutions, how are you faring in achieving those goals? If you are slacking off or have started forgetting about them, it's about time to change course and focus more of your time and effort on achieving those goals.
Sadly, many of us tend to ditch the resolutions we made just before the start of the New Year and retreat to our old ways. If you're one of these folks and you want to correct this negative habit, we've compiled five proven ways to set better goals for the New Year.
1. Choose SMART goals.
One of the most common reasons why people fail to push through with their resolutions is because they're too vague or unrealistic. This is where the SMART method comes in. SMART is the acronym for the words "specific," "measurable," "attainable," "relevant," and "time-sensitive."
You can apply the SMART method this way: Instead of setting a major goal that requires lots of steps, you need to break it down into smaller goals to make it easier for you to fulfill them. Here are several examples:
I will save $20 every week to be able to pay my debts.
I will update my resume, hone my skills, and begin looking online for decent-paying jobs in the industry where I belong.
I will replace my day-to-day routine to stay healthy and active. Examples: I'll take the stairs instead of the elevator at work. I'll swap chips with fruits. I'll be walking outside for at least 30 minutes each day instead of slacking off.
I will cook and prepare my meals rather than ordering takeout. This way, I'll be saving money and eating healthy at the same time.
2. Write them down.
Unless your memory is incredibly sharp, you have to write down your goals and put the note in a place where you can see your written goals regularly. That way, you can remind yourself of those goals time and again, review your progress, and recommit consistently. For instance, you can tape the note where you've written or printed your New Year's resolutions to your bathroom mirror so they'll be the first and last things you see every day. Another idea is to take a photo of them and use the image as your phone wallpaper or computer screensaver.
3. Stop comparing.
As you're working toward bettering your life, you should always remember that we're all traveling at our own pace and traversing different paths. Comparing yourself to someone else would do nothing but rob you of time that you could have spent in pursuing your goals.
If you spend most of your time on social media reading the posts of people flaunting their successes such as getting the jobs of their dreams or traveling to beautiful places, you may just become green with envy.
4. Enjoy the process.
Bear in mind that big success is made up of small victories. Let's say, one of your resolutions is to lose 20 lbs. Since it's hard to achieve that quickly, you can still celebrate every time your pants fit a little looser each week.
Sure, setting personal goals is great, but it doesn't mean that you should stop living while you're pursuing them. It's important to enjoy the process itself, especially when you see how far you've come to reaching your goals. Also, don't be afraid of failures. Embrace them and allow them to make you stronger and more resilient as you continue your way toward your goals.
5. Reward yourself.
Finally, reward yourself for achieving your goals despite the setbacks and moments when you felt like giving up. Just see to it that the reward you give yourself won't interfere with the pursuit of your other goals. For example, if you're trying to trim your weight down, and you were finally able to free yourself from debt, don't celebrate your win by dining at your favorite buffet restaurant.
Welcome the New Year on a Healing Note
If one of your goals this year is to make an impact on the lives of people in your community who badly need help, there is a way to strike that goal off your list quickly. By donating an unwanted vehicle to us here at Breast Cancer Car Donations, you'll be able to send lifelines to the struggling women in your community who are fighting off breast cancer. Your donation will help them beat the devastating disease.
We'll sell your donated vehicle through an auction and use the proceeds to fund reputable cancer-fighting nonprofit organizations that we've partnered with. These IRS-approved 501(c)(3) nonprofits deliver comprehensive breast health services to all Americans who need them, providing uninsured and indigent breast cancer patients with access to topnotch medical facilities and financial assistance to help cover the cost of their treatments, consultations, laboratory tests, hospitalization, medications, and follow-up care.
You will also benefit from your vehicle donation since it will entitle you to receive the maximum tax deduction in the next tax season.
Moreover, we'll provide you with our free professional pickup and towing service anywhere in the United States.
The best reward you'll get, however, is the priceless feeling of satisfaction when you realize that you're doing an act of charity that will help save lives.
You can donate almost any type of vehicle regardless of its age or condition.
For more information on our donation program, including our quick and easy donation process, head over to our FAQs page. If you have any questions or concerns, feel free to call us anytime through our toll-free hotline at 866-540-5069 or send us a message here.
Give Needy Breast Cancer Patients a Second Chance in Life Today!

There's no easier and more convenient way of helping indigent women suffering from breast cancer than by donating an unwanted vehicle to us. Your car donation will give them a second chance in life. Call Breast Cancer Car Donations at 866-540-5069 or make your donation here today!