5 Unique Kwanzaa Traditions to Celebrate the Holiday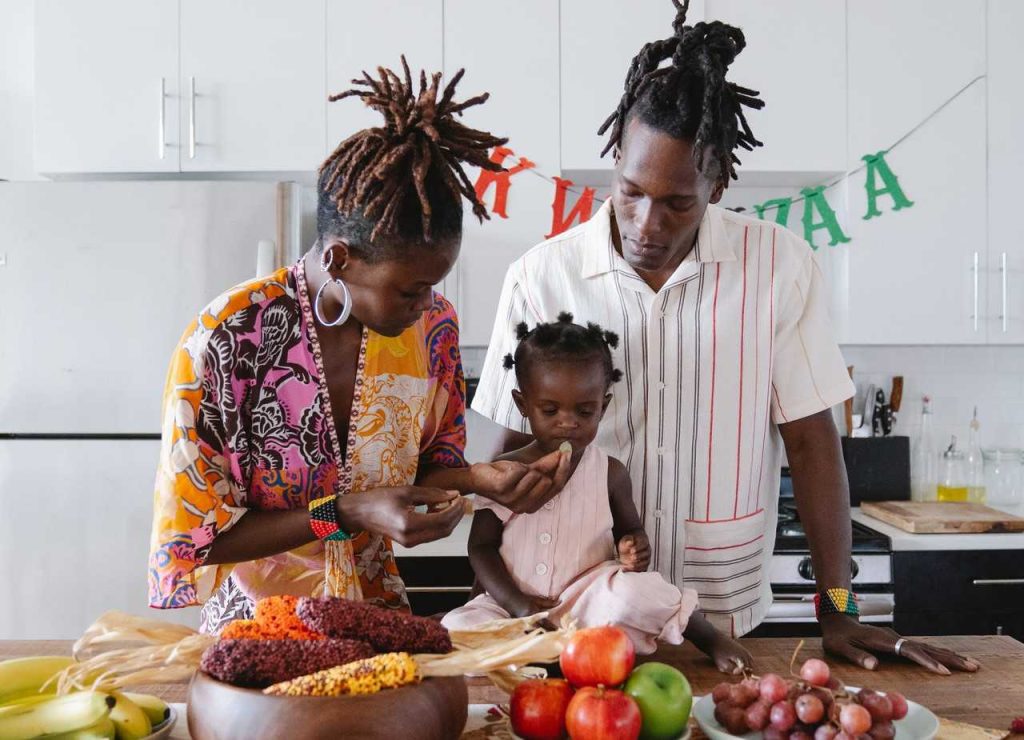 Kwanzaa Won't Be What It Is Without These Traditions
From December 26th to January 1st, we once again celebrate Kwanzaa in celebration of the African heritage in African-American culture. It's a relatively new holiday compared to other holidays in our country.
It was created in 1966 by Dr. Maulana Karenga, professor and chairman of Africana Studies at California State University. Following the racial riot in Los Angeles a year earlier that killed 34 people, Karenga wanted to heal the racial divide and bring African-Americans together as a community. He researched African harvest celebrations and combined them with aspects of other celebrations, such as those of the Ashanti tribe and those of the Zulu, to form the basis of Kwanzaa.
Kwanzaa is derived from the phrase matunda ya kwanza, which means first fruits or harvest in Swahili.
While there are no prescribed ways to celebrate Kwanzaa, it usually involves singing, dancing, and of course, traditional African meals.
Kwanzaa also has seven basic symbols, which represent values and concepts reflective of African culture. These are mazao (the crops), mkeka (the mat), kinara (the candle holder). muhindi (the corn), kikombe cha umoja (the unity cup), mishumaa saba (the seven candles), and zawadi (the gifts).
During the seven-day holiday, people celebrate traditions that help make Kwanzaa unique. Breast Cancer Car Donations lists five of these traditions:
1. Kwanzaa display
Families prepare a visual centerpiece in their homes to celebrate Kwanzaa. This comprises items representing the seven symbols of the holiday.
2. Gift giving
Children receive gifts from their elders during Kwanzaa. These gifts are usually items that have cultural values or those that educate them about their African roots.
3. Candle ceremony and reflection
During the week-long celebration, families gather every day to light one of seven candles on a candle holder called the kinara. Each of the candles represents a key tenet of Kwanzaa and is collectively known as mishumaa saba.
4. Honoring ancestors
Families begin the celebration of Kwanzaa by pouring wine into a unity cup. This is to honor those who have passed away and paved the way for the living.
5. Feasting
Kwanzaa culminates with a feast called Karamu Ya Imani (Feast of Faith) held on December 31st. The feast typically features a mix of different traditional African dishes.
Celebrate Kwanzaa with This Life-Saving Act
Celebrate Kwanzaa more meaningfully this year by doing something that makes a difference in the lives of the less fortunate folks in your community. You can do that by simply donating any vehicle that you no longer want to Breast Cancer Car Donations.
Your vehicle donation can help save the lives of the destitute women in your area who are stricken with breast cancer.
We are the charity partner of reputable breast cancer nonprofit organizations, raising funds for their life-saving programs by selling donated vehicles through auctions. Once we have your automobile, we'll auction it off and use the proceeds to assist our partners in delivering comprehensive breast health services to their beneficiaries.
The services they provide include easy access to top medical facilities and financial assistance for uninsured and destitute breast cancer patients to cover the cost of their treatments, physician visits, medications, and follow-up care. Other beneficiaries get to receive free breast cancer screening and prevention and education services.
To repay you for your charitable contribution, we'll provide you with our free pickup and towing service. Your donation will also entitle you to receive the maximum tax deduction in the next tax season.
However, the best reward you'll get is not a material thing. It's the joy and satisfaction you'll experience, knowing that your donation will be used to help save lives.
You can donate just about any type of vehicle, whether it's still in good condition or not. You're also free to make your donation from any point in the country since our vehicle donation program covers all 50 states plus the District of Columbia.
If you have inquiries or concerns regarding our donation process, please contact us at 866-540-5069 or leave us a message here. You may also learn more about our work by browsing through our FAQs page.
Join the Fight Against Breast Cancer Today!

Despondent members of your community who are struggling with breast cancer need your help. Your vehicle donation can help give them hope and save their lives. Call Breast Cancer Car Donations at 866-540-5069 or fill out our secure online donation form now!