5 Best Outdoor Holiday Decorations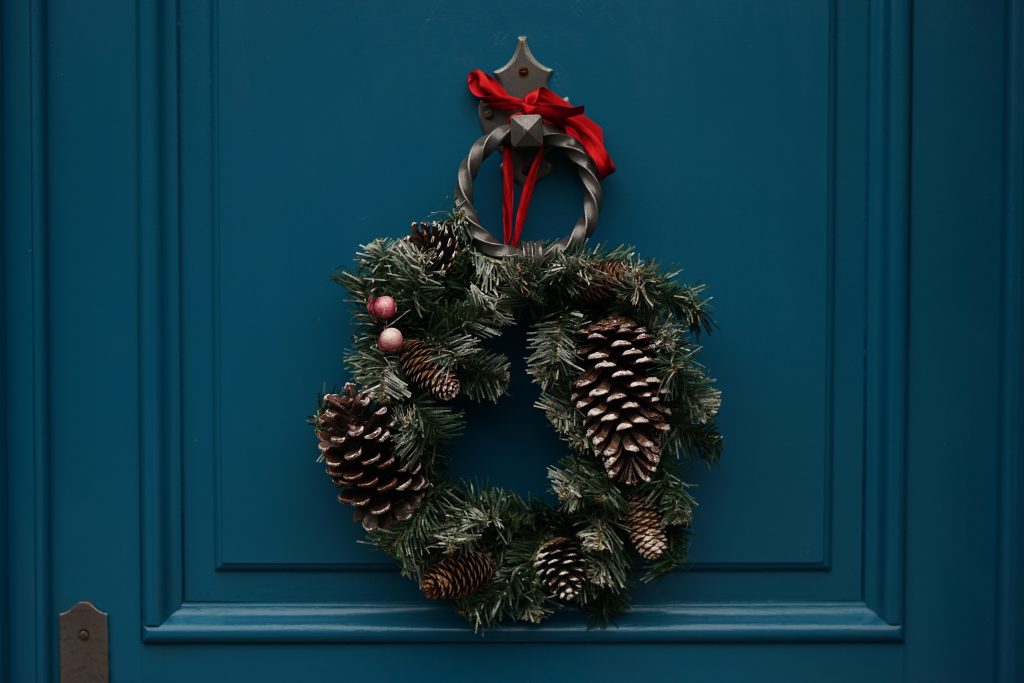 5 Best Outdoor Holiday Decorations: Spread the Joyful Yuletide Spirit!
Christmas time is near! It's time to pull those holiday decors out of the storage room and create a personal Winter Wonderland out front—lanterns, lights, ornaments, wreaths, candy canes, and all that jazz!
While most people just mindlessly decorate their porches or yards, there are some who really go all out to ensure that everything is in order. After all, there's no such thing as too much holiday spirit, is there? Without further ado, here are the 5 best outdoor holiday decorations that have captivated so many Yuletide hearts.
#1 The Welcoming Entryway
Nothing is more inviting than this perfectly laid out holiday decoration! The colors, the materials used, and the way they are placed are fantastic! No need for elaborate lighting and gigantic designs here.
This is how to get this look:
Have a lot of apple green and cherry red ribbons, at least 1.5-inch thick.
Prepare a garland and garnish it with all things pretty (stay with the same color scheme).
Put up a large decorated wreath on the front door.
Decorate the lights and plants to match the overall décor.
Add a life-sized Christmas royal guard (or a Nutcracker figure) to finish the look.
#2 The Festive Neighbor
Lights and well-organized decors can certainly add to that curb appeal. Plus, notice the well-manicured lawn!
To get this look:
Make sure the lawn is set for decorating.
Prepare a variety of Christmas lights—hanging lights, bulbs, string lights, etc.
Create reindeer using chicken wire (or purchase ready-made ones).
Spread out some life-sized decors or inflatables.
Adorn the eaves with string lights or hanging lights.
Don't forget Santa's sled seat angled beautifully to complement the exterior of the house.
#3 The Pretty Porch
This daintily decorated home proves that one doesn't have to have the biggest number of lights on the block to be the prettiest and most eye-catching home in the neighborhood. With its grand front porch decked out for the holidays, adorned with wreaths and garlands and little fairy lights, this home is easy to fall in love with. Those seeing it can only wonder how pretty it must be inside!
To get this look:
Adorn every window with a simple wreath.
Drape garlands all over and adds some red wine-colored ribbons to add texture.
Place whimsical topiaries on the entryway and hang a lit Christmas wreath on the gate.
Don't forget those white reindeer spread out.
#4 The Yuletide Utopia 
One can never go wrong with Christmas lights. It never fails to turn heads and makes any home glow with Yuletide cheer. In fact, a happy yard with a cool Christmas light display ALWAYS puts a smile on everyone who passes by!
Want this look?
Purchase a lot of Christmas lights—a lot!
Fill the entire front yard with ornaments, figures, and whatnot in different sizes.
Decorate using an "organized chaos" design.
Don't disregard the trees, plants, and anything that you think you can adorn with lights.
Drape all the eaves and shingles with dazzling hanging lights.
Place a moving Santa-on-the-sled light display on the roof.
#5 The Supersize Spruced Space
Supersize your holiday decors with oversized ornaments, multiple Christmas trees, and quirky adornments like colorful, swirling candies, candy canes, and gingerbread figures. Don't miss out on that tiny red cabin that'll surely make passersby take a peek in! For this look, the following things are needed:
At least 3 large Christmas trees
Some whimsical decors to add to the appeal
A tiny cabin (probably a toy house for the children) decorated and furnished with holiday adornments
Have Fun Decorating!
Decorating the exterior part of the house doesn't only show a home's Christmas cheer but also spreads festive vibes to everyone who sees it. Whether it's a house filled with lights, supersized ornaments, rustic holiday creations, and whatever style and design, a well-thought-out display will definitely add an instant holiday curb appeal!

Want a More Meaningful Christmas?
Any of these 5 best outdoor holiday decorations can spread joy and cheer to whoever marvels at them. How about extending the joyful Yuletide spirit to the less fortunate people in your community who are struggling with heavy burdens, including those afflicted with breast cancer and have little means to pay for the cost of treatment?
Did you know that you can easily touch their lives with just a single car donation? If you donate an unwanted vehicle to us at Breast Cancer Car Donations, you'll give needy breast cancer patients a chance to live longer and fuller lives.
We will auction off your donated vehicle and use the proceeds to help our certified 501(c)3 nonprofit organization partners in raising funds to finance the comprehensive breast health programs and services they provide to uninsured and underserved individuals. These services include screenings, diagnostic tests, and treatment of breast cancer.
You will be bringing holiday cheer not only to breast cancer patients and their families but to yourself as well since you'll get to receive your own share of rewards for your charitable contribution. These include getting the highest possible tax deduction right after we sell your vehicle at auction.
For more information on our car donation program, check out our FAQs page. For inquiries, you may call us at our toll-free hotline 866-540-5069 or send us a message online.
You can make your car donation by filling out our online donation form or calling us directly. We accept vehicle donations anywhere in the United States since we have car donation programs in all 50 states.
Get Started With Your Car Donation!
Nothing compares to the feeling of knowing that you're one of the reasons why a breast cancer survivor will still be decorating her front lawn with outrageous Christmas decorations next year.
What are you waiting for? Call us at 866-540-5069 to kick-start your donation process!